God's own country- KERALA is located on the southwestern coast of India and is a destination that effortlessly blends natural beauty, cultural heritage, and warm hospitality. With its palm-fringed beaches, tranquil backwaters, lush tea plantations, and vibrant festivals, Kerala offers a unique and unforgettable travel experience. In this detailed travel blog, we will guide you through the essentials of planning a trip to Kerala, including how to reach this magical destination, what to eat, where to eat, and the best places for shopping.
God's own country- KERALA How to reach there: Kerala is well-connected to major cities in India and several international destinations. The state has three international airports: Cochin International Airport, Trivandrum International Airport, and Calicut International Airport. Domestic flights operate from these airports, making it convenient for travellers to reach Kerala. Additionally, Kerala has an extensive railway network, with significant railway stations located in cities like Kochi, Thiruvananthapuram, and Kozhikode.
For a memorable stay, consider the following options:
Luxury: Brunton Boatyard, Taj Malabar Resort & Spa
Mid-range: Forte Kochi, Eighth Bastion
Budget: Bastian Homestay, Happy Camper – Kochi
Munnar:
Venture into the breathtaking landscapes of Munnar, a hill station renowned for its tea plantations, mist-covered mountains, and tranquil atmosphere. Explore the tea estates, visit the Eravikulam National Park to spot the endangered Nilgiri Tahr, and enjoy panoramic views from Top Station. Recommended accommodations in Munnar include:
Luxury: Windermere Estate, The Panoramic Getaway
Mid-range: Tea Harvester, Misty Mountain Resort
Budget: Bella Vista Resort, Clouds Valley Leisure Hotel
Alleppey (Alappuzha):
No trip to Kerala is complete without experiencing the famous backwaters. Alleppey offers an idyllic setting with its picturesque canals, houseboats, and serene surroundings. Indulge in a houseboat cruise, witness the traditional snake boat races, and savour delicious local cuisine. For a memorable stay in Alleppey, consider these options:
Luxury: Punnamada Resort, Vasundhara Sarovar Premiere
Mid-range: Pagoda Resort, Lake Palace Resort
Budget: Xandari Pearl, Cosy Houseboats
Thekkady:
Continue your journey to Thekkady, home to the renowned Periyar National Park. Embark on a wildlife safari, and spot elephants, tigers, and an array of bird species. Take a boat ride on the Periyar Lake and explore the spice plantations surrounding the area. Consider these accommodations in Thekkady:
Luxury: Spice Village, Niraamaya Retreats Cardamom Club
Mid-range: The Elephant Court, Forest Canopy
Budget: Periyar Nest Resort, KTDC Lake Palace
Kovalam:
Finish your Kerala trip by relaxing on the pristine beaches of Kovalam. With its golden sands and azure waters, Kovalam offers a perfect blend of tranquillity and rejuvenation. Enjoy water sports, witness beautiful sunsets, and indulge in Ayurvedic treatments. Recommended accommodations in Kovalam include:
Luxury: The Leela Kovalam, Niraamaya Retreats Surya Samudra
Mid-range: Uday Samudra Leisure Beach Hotel, Sagara Beach Resort
Budget: The Ocean Park Beach Resort, Soma Palm Shore Beach Resort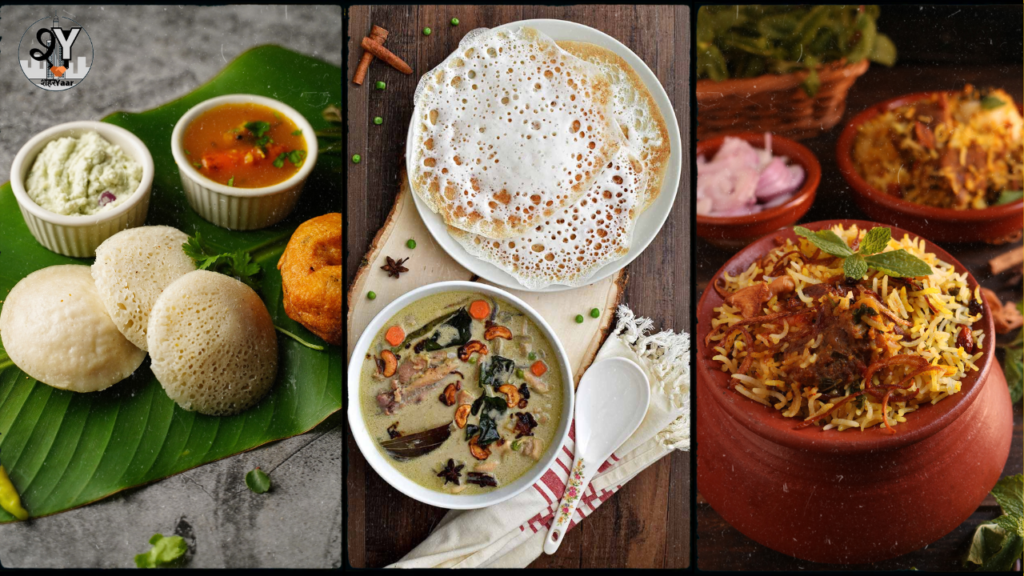 What to Eat in Kerala: Kerala's cuisine is a delectable blend of flavours and spices that will leave your taste buds craving more. Here are some must-try dishes:
Puttu and Kadala Curry: It is a steamed rice cake served with a flavorful black chickpea curry.
Appam and Stew: Soft, lacy pancakes paired with a fragrant coconut milk-based stew, usually made with vegetables or meat.
Malabar Biriyani: Aromatic rice dish layered with meat (usually chicken, mutton, or fish) and various spices.
Karimeen Pollichathu: Pearl spot fish marinated with spices, wrapped in banana leaves, and grilled to perfection.
Where to Eat in Kerala: Kerala is dotted with numerous eateries and restaurants. They serve authentic local cuisines as well as international dishes. Here are a few recommended places to indulge in a culinary adventure:
Fort Kochi: Explore the streets of Fort Kochi, where you'll find charming cafes and restaurants offering a mix of Kerala's traditional and fusion cuisine.
Thiruvananthapuram: Head to the capital city. Visit local restaurants serving traditional Kerala dishes, including the popular Kerala Sadhya (a vegetarian feast served on banana leaves).
Kozhikode (Calicut): Known for its Malabar cuisine, this city offers a range of eateries serving delicious biryanis, seafood, and local snacks like pazhampori (banana fritters).
Places for Shopping in God's own country- KERALA: Kerala is a treasure trove for shopping enthusiasts, with its vibrant markets and unique products. Here are some recommended shopping destinations:
Kochi: Explore the streets of Jew Town and visit the famous Mattancherry Spice Market for aromatic spices, handicrafts, and antiques.
Trivandrum: Visit the Chalai Market for a wide range of goods, including textiles, spices, and souvenirs.
Munnar: Known for its tea plantations, Munnar offers opportunities to purchase high-quality tea leaves and tea-related products.
Kerala Latest news:
According to the most recent information, the route from Erattupetta to Vagamon, which had been closed for a while for repairs, has now been opened to traffic. With this, all significant tourist attractions on Kottayam's eastern high ranges will continue to be properly connected. Travelling along these routes will provide lifelong memories and take you past breathtaking views of deep valleys and towering mountains.
You can choose from the following routes:
Illikkal Kallu Road: Illikkal Kallu, one of the main tourist destinations, is now easily accessible from all roadways.
Adukkam, Theekoy, Erattupetta, and Illikkal This route, which is 20 km from Erattupetta, is now completely navigable.
19 kilometres separate Erattupetta from Kalathookadav, Mangomba Temple, and Illikkal Kallu. This road from Kalathookadavu via Panakkapalamand Plashanal is now available for travellers coming from the Pala side.
Another popular route used by many visitors from different parts of the state to go to Vagamon is the Erattupetta-Vagamon Road.
This road also connects Theekoy and Thalanadu Panchayats, which are important entry points to Kurishumala, a well-known pilgrimage site in Vagamon.
Travellers can now easily access Kattappana and the Kuttikkanam road from Vagamon by using Elappara. Travellers will now be able to continue to other important locations, including Thekkady and Thodupuzha from Vagamon to Moolamattom, after entering the National Highway at Kuttikkanam.
The Kanjiram Kavala-Melukavu-Nellappara-Ilikkal Kallu route, which would allow access to Illikkal Kallu from Kanjiram Kaval along the Erattupetta-Thodupuzha road, is another crucial route.
The Illikkal Kallu peak's lower portion can be reached by the Erattupetta-Thaland-Kalakkood path, which also allows access to various breathtaking overlooks and leads to the main viewpoint of the destination.
God's own country- KERALA Conclusion:
Kerala is a traveller's paradise, offering a harmonious blend of nature, culture, and culinary delights. From exploring the serene backwaters to indulging in mouthwatering local delicacies, and from shopping for unique souvenirs to immersing yourself in the vibrant local markets, Kerala has something to offer for every traveler. So let's pack your bags and embark on an unforgettable journey to this enchanting land. Kerala's allure lies in its harmonious blend of nature's bounties, vibrant culture, and warm hospitality. Whether you seek tranquillity amidst the backwaters, adventure in the hills, or a cultural extravaganza, Kerala has something for every traveller. This enchanting state promises unforgettable experiences and memories that will linger long after your visit. Happy travels!