Welcome to Sohna, a small town located in the state of Haryana, India. It is known for its hot springs, which have been attracting tourists from all over the world for centuries. But it is more than just hot springs, it's a place that offers an escape from the hustle and bustle of city life. So come on over, as "zindagi na milegi dobara", and experience the beauty and magic of Sohna for yourself! Here is a comprehensive itinerary for your trip, including travel charges, accommodation, what to eat, and where to go.
In the heart of Haryana lies a town
Where nature's beauty knows no bound
A place where hot springs soothe the soul
And stories of the past still unfold
Getting to Sohna
If you're coming from Delhi, the best way to get to Sohna is by road. You can either take a taxi or hire a car which will cost you around Rs. 1000-1500. The distance between Delhi and Sohna is around 60 kilometers, and it takes around 2 hours to get there. Alternatively, you can take a bus from Delhi to Sohna, which is a more economical option.
Accommodation in Sohna
When it comes to accommodation, you'll find a range of options to suit all budgets. If you're looking for a luxurious stay, then the Sohna Resorts and Spa is a great option which can cost you upwards of Rs. 5000 per night. The resort is set amidst beautiful gardens and offers a range of amenities including a spa, swimming pool, and restaurants.
For a more budget-friendly option, you can stay at one of the many guesthouses or homestays in Sohna which will cost you around Rs. 1000-2000 per night. These places offer a more authentic experience, and you'll get to interact with the locals and learn about their way of life.
What to eat:
The streets of Sohna, alive with sounds
Locals greeting, warm and profound
The aroma of spices, the street food's charm
An experience that leaves you feeling warm
All foodies must try Sohna's mouth-watering street food, for which it is renowned. Some of the popular dishes you should try here include the famous Sohna Chaat, which is a spicy and tangy snack made with boiled potatoes, chickpeas, and tamarind chutney. Other popular dishes include Bikaneri Samosa, Gol Gappe, and Aloo Tikki. If you want to try something more substantial, you can try the local dhabas, which serve delicious North Indian cuisine.
Where to go:
Although it is a small town, there are plenty of things to see and do here. Here are some of the popular tourist attractions in Sohna:
1. Damdama Lake
A popular picnic spot, Damdama Lake is located about 20 km from Sohna. The lake offers a range of water sports activities, including boating, kayaking, and canoeing. Nestled amidst the hills, it is a serene oasis, where the still waters reflect the clear blue sky like a mirror.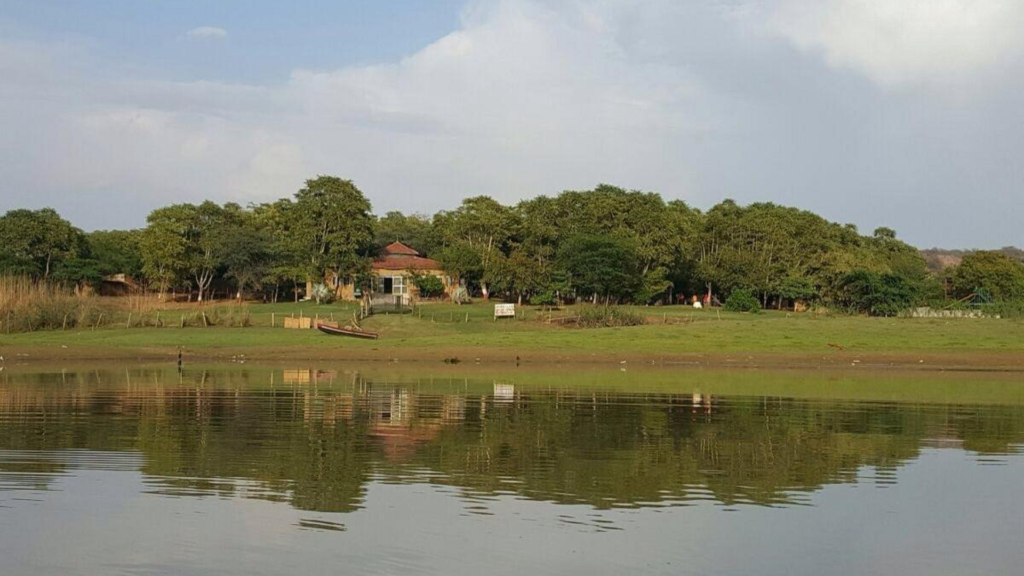 2. Shiva Temple
The Shiva Temple in Sohna is a popular pilgrimage spot. Located on a hilltop, the temple dedicated to Lord Shiva offers panoramic views of the town and contains the Shiv Kund, known for its therapeutic hot springs. You can take a dip in the hot springs and relax your muscles.
The area around the hot springs has been developed as a beautiful park. It contains well-manicured gardens, walking paths, and sitting areas. Visitors can enjoy a relaxing stroll through the park or sit by the side of the hot springs and enjoy.
3. Sohna Fort
During their reign, the Mughals built Sohna Fort, making it an ancient fortification that offers a glimpse into the rich history and architecture of the town.
Perched on a hilltop, the fort overlooks the town of Sohna and the surrounding countryside. As you climb up the steep stairs to the fort, breathtaking views of the surrounding hills and valleys will reward you.
The architecture of the fort is a blend of Mughal and Rajput styles, with intricately carved stone walls, arched gateways, and ornate balconies. The fort has several courtyards, each with its own unique charm and character.
Even though it's not the most popular place, it is a great weekend getaway if you want to escape the daily grind. You can check out all the awesome things to do, or just wander around and explore the natural beauty. And let's not forget the delicious food that'll always keep you satisfied.
So, my friends, pack your bags and get ready to experience the magic of Sohna, "jahaan nature ki chandni raushni dene aati hai" . With its stunning natural beauty, rich cultural heritage, and warm hospitality, Sohna has something to offer to everyone. As you visit Sohna, you'll feel as if you've stepped back in time to a simpler, more peaceful era. Come over and experience the warmth and magic of Sohna for yourself.Trust us, "picture abhi baaki hai mere dost" and the best way is to come in Sohna!