ABOUT OOTY:
Ooty, the 'Queen of Hill Stations' is also known as Udhagamandalam. It is the capital of the Nilgiris district as well. One of the most popular hill stations of India, it has Nilgiris, the 'Blue Mountains, in its background. The hill town of Ooty, discovered by a British Collector, John Sullivan, was once a summer resort and weekend getaway for the Madra residency, during the colonial times in the 19th century. Located at an altitude of 2,240 meters above sea level, it has several popular tourist attractions to boast of. One of the major attractions is its popular tea estates. This hill station in Tamil Nadu is nestled in the Nilgiri ranges of Snowdon, Club Hill, Doddabetta as well as Elk Hill. One of the most well-known hill stations in the Southern part of South India is visited by a large number of local as well as foreign tourists. The best time to visit Ooty is from October to June.
HISTORY ABOUT OOTY

From 1104 to 1141 AD, Ooty was under the rule of Vishnu Vardhana, a ruler of the Hoysala Kingdom. Another well-known ruler of Ooty was Tipu Sultan. In the year 1799, this hill town came under the British East India Company, after Tipu Sultan had to sign a treaty with the company. During the 19th century, John Sullivan, a British Collector, started developing Ooty in the form of a summer retreat for the British. Throughout that time, several clubs, cottages, and other buildings were built that offered entertainment and recreational facilities to the British officials. Rail connection was laid to reach Ooty during 1880. Gradually, this hill town became the place for the growing of tea leaves, thus, came up several tea estates. After independence, the Government of India started promoting Ooty as a tourist destination.
HOW TO REACH OOTY
DELHI TO OOTY: Ootty is one of the best and beautiful tourist destinations in Tamil Nadu. Many of the tourists are not aware of the best route to reach Ootty from their place. Here is a way/route to reach Ooty from Delhi.
Ooty from Delhi
Train Travel
There is no direct train from Delhi to Ooty.
However, you can take a direct train from Delhi central station to Coimbatore railway station. It takes around 10 hours.
You can book IRCTC Online Passenger to reach Coimbatore.
From Coimbatore, you can reach Mettupalayam.
From Mettupalayam, you can reach Coonoor. It might take around 2 hours.
From Coonoor, you can reach directly to Ooty. It might take around 1 hour.
From Mettupalayam either you can take the toy train or any cab.
But traveling in a toy train it might take half a day to reach Ooty.
Instead of that avail our cab services Ooty Travels and reach Ooty quick, to enjoy the toy train we provide 45 min toy train completely free if you book it a
We provide a cab which includes in our package and also we provide the cab directly from Mettupalayam to the hotel( According to the members) just for Rs.1400.We do have a pickup and drop from Coimbatore just for Rs.1700.
In our package, the toy train is also available if needed we will book the ticket for you.
Our package also includes where you can get the details of all the sightseeing places in Ooty.
Flight Travel
There is no direct flight from Delhi to Ooty.
However, you can take a direct train from Delhi Airport to Coimbatore Airport. It takes around 1 hour.
You can book flights from Delhi to Coimbatore.
From Coimbatore, you can reach Mettupalayam.
From Mettupalayam, you can reach Coonoor. It might take around 2 hours.
From Coonoor, you can reach directly to Ooty. It might take around 1 hour.
From Coimbatore, you can directly opt for a cab or bus.
Instead of that avail our cab services Ooty Travels and reach Ooty quickly, to enjoy the toy train we provide a 45 min toy train completely free if you book it as Ooty Tour Packages.
We provide a cab which includes in our package and also we provide the cab directly from Mettupalayam to the hotel( According to the members) just for Rs.1400.We do have a direct pickup and drop from Coimbatore just for Rs.1700.
In our package, the toy train is also available if needed we will book the ticket for you.
Our package also includes Sightseeing Places where you can get the details of all the sightseeing places in Ooty
BEST TIME TO VISIT OOTY
The best time to visit Ooty is throughout the year as the weather is pleasant and great for sightseeing. The temperature usually ranges from 5-15 degrees throughout the year with colder nights. However, the peak season is from October to June when the weather is pleasant and you can get involved in outdoor activities. Ooty can be visited during monsoons (if you don't mind the rain) when the freshly washed surroundings give Ooty an ethereal charm. The annual Tea and Tourism Festival attracts crowds in huge numbers to visit the place and have a great time in this wonderful place.
Ooty in Winter (October – March)
Ooty in Monsoon ( July – September)
Ooty in winter ( December _ February)
OOTY CUISINE TASTE AND FOOD.
Ooty is famous for its beautiful locales and tourism options, pulling in a large number of crowds throughout the calendar year. Locating good food definitely is one inevitable part of a travelers' agenda. So let us peep into the food culture, food menu and explore some best places to eat in Ooty.
Local Food of OotyFood ethnology of Ooty is identical to regular Tamil Nadu food. Most of the dishes of the region are prepared with coconut, coconut oil, asafetida, and tamarind. While the favorite breakfast menu includes Idly, Dosa, Uttappam, Vada, Uppama served with coconut chutney and sambar, the lunch and dinner consist of curry with rice, papads, and chutney.
Tea
Nobody knows Ooty for its distinguished food items, but it is a bet that the delicacies you enjoy while in Ooty are sure to excite your taste buds. Ooty is famous for tea plantations and a variety of flavors of tea are easily available in the local markets and the specialized shops for selling tea.
Chocolates and Bakery Food
Only a few know that Ooty also makes some of the best homemade chocolates. Home-made chocolates were popularized by the British in Ooty. Quite a few shops of Ooty sell homemade chocolates. Ooty is a hub of bakery food and traditional biscuits as well. Bread, varkis, buns, cakes, pies, fruit-nut chocolates, and brownies of Ooty are mouth savoring and worth trying. The local bakeries are well appreciated by the tourists.
Avial. Avial is a stewed vegetable preparation. …
Pastries and bread. You can try some locally made pastries, bread, and chocolates. …
Farm fresh Strawberries and other fruits. Ooty has many farms which grow strawberries, pears, peaches, etc. …
FAMOUS TOURIST PLACE IN OOTY
Ooty, the Queen of Hill stations, welcome you with mesmerizing meadows, a soothing environment, cool weather, and a wide array of sightseeing places to visit and admire.
Avalanche Lake
Located 28 km away from Ooty, Avalanche lake is a must-visit when on Ooty Tour. This lake, beautifully lying amid the lush greenery of mountains and landscapes mesmerizes every visitor. It was created due to a massive landslide somewhere around the 1800s hence the name. It is popular for trout fishing and the required equipment for it can be taken from Trout hatchery. Along with exploring the surrounding areas and their rare flora and fauna, other activities that are popular here are camping, rafting, and trekking to nearby hilly regions such as Upper Bhavani. It is also an ideal picnic spot.
2. Ooty Lake
One of the most important parts of every Ooty tour, Ooty lake is indeed a place to visit. nIt is an artificial lake that was built for fishing purposes. This lake is popular for boating. Tourists can be seen enjoying a refreshing ride on its serene waters. There is a boating house located near the lake offering a wide array of boats on hire. Cycling by the side of the lake is also worth experiencing. There are also a few shops located around the lake, selling various locally made items.
3. Emerald Lake
Located near the Emerald Village in the Nilgiri District, Emerald Lake lies in a place called Silent Valley. It is situated around 25 km away from Ooty. A beautiful lake offers an ideal place for a picnic where you can relax and spend some quality time with your loved one. Tea plantation surroundings add to the overall beauty of the lake. The view of sunrise and sunset from here is breathtaking and not to be missed.
4. Ooty Botanical Gardens
Maintained by the Horticultural Department of Tamil Nadu, Botanical Gardens of Ooty is undeniably one of the most popular places to see in Ooty. Spread over 55 acres of land, this garden is divided into five different sections such as Fern House, Lower Garden, Italian Garden, Conservatory, and Nurseries. The flower show conducted here as a part of the Ooty Summer festival is a major attraction. Another popular attraction of the Botanical Garden is the Fossil Tree Trunk that is said to be around 20 million years old. The wide variety of plants here are worth exploring.
5. Deer Park
Located at a distance of 2 km from Ooty Lake, Deer Park is easily accessible by road. With its rich fauna along with varieties of deer such as Sambhar and the Chithal, Deer park makes up for an interesting visit, especially for wildlife enthusiasts. Equally rich is the variety of flora in this park. Spread across an area of 22 acres, this park was established in the year of 1986. It is one of the known wildlife sanctuaries of not only Tamil Nadu but of India presenting an amazing opportunity to observe the wildlife and various animals from closer.
6. Doddabetta Peak
Located at an altitude of 2623 meters, Doddabetta Peak is the highest peak in the Nilgiris. At the junction of Western and Eastern Ghats, it is around 10 km away from Ooty. Covered by dense sholas, this peak is the trekkers' favorite point. The view from the top of the peak is absolutely mesmerizing, there is a telescope house at the peak with two telescopes presenting a captivating view of the valley around. Rich flora and fauna here add to the overall charm of Doddabetta Peak.
7. Kalhatty Waterfalls
About 13 km away from Ooty, on the Ooty-Mysore Road, Kalhatty Waterfalls is one of the most beautiful waterfalls that you will see on an Ooty Tour. This waterfall can be reached via a 2-mile path from Kalhatti village. It is believed that great Hindu saint Agastya has once lived here. With its rich avian fauna, it is often visited by bird watchers as well. Its scenic beauty is sure to leave you spellbound.
8. Kamraj Sagar Dam
A popular place for picnics and film shooting, this dam is situated around 10 km from the Ooty bus stand. Also known by the name of Sandynallah Reservoir, this dam offers a peaceful environment with beautiful surroundings where tourists can spend some time at ease. Along with being a popular picnic spot, it is also visited by tourists for bird watching as well as for fishing. It is a popular site for researchers who come to study.
9. Mudumalai National Park
Connecting the Eastern Ghats and the Western Ghats, on the Ooty Mysore route, Mudumalai National Park is another place to visit by Nature lovers when on their tour to Ooty. This national park boasts of many wild animals and rich avian fauna along with equally rich flora. It has also been declared as a tiger reserve as it is home to approximately 50 tigers. If interested one can also find accommodation as many guest houses are offered by the Forest Department at different locations of the park.
10. Mukurthi National Park
A part of Nilgiri Bio reserve, Mukurthi National Park promises a memorable time to everyone amid its enthralling scenic beauty and rich nature. Spread across 80 sq. km, this national park has various streams and rivers flowing through it, which in turn add to the overall attraction of this place. Many animals and birds can be spotted around these sources of water. There are also a few watchtowers located inside the national park. It is a popular site for trekking as well.
11. Needle View Hillpoint/Needle Rock View-point
Located about 8 km from Gudalur, the Needle Rock viewpoint presents a mesmerizing 360 view of the surrounding valley and areas. Gudalur is around 51 km from Ooty. Also known as Soochimalai, it is also a popular spot for trekking. This viewpoint got its name as its shape resembles a needle. The view of clouds meeting hills, crossing you as you stand watching them is sure to take your breath away.
12. Ooty Rose Garden
Rose Garden is another popular place to visit in Ooty. Maintained by the Government of Tamil Nadu, this garden is spread across 4 hectares of land and proudly presents more than 20 thousand varieties of roses. A well-maintained garden, it also boasts of winning the Garden of Excellence Award for South Asia from the World Federation of Rose Societies. The unparalleled beauty of roses promises a visual treat and an ideal backdrop for photography.
13. Ooty Toy Train
A part of Nilgiri Mountain Railway, Ooty Toy Train is an integral part of every Ooty Tour. It runs from Mettupalayam to Ooty via Coonoor. The ride in this historical toy Train is unmatched by any other train ride; passing through lush green landscapes and breathtaking Nilgiri mountains, this train runs on a track of 46 km. There are first-class and second-class coaches to choose from.
14. Tribal Research Center
Situated around 10 km away from Ooty, Tribal Research Center presents a glimpse into the lives of indigenous people. Along with researching into the lives of tribal tribes of South India, it also houses a well-stocked library. It is also a museum displaying artifacts. Easily accessible by road, this place is an ideal place to understand the lives of local people.
15. Parsons Valley Reservoir Ooty
As the name suggests Parson valley reservoir is located in Parson valley, which is spread over an area of 200 hectares at an altitude of 2,196 meters above sea level. Situated on the Ooty Mysore road, it can be reached via road. This hydel reservoir can be entered after getting permission from the forest department. It is the primary source of water to the Nilgiri District. The view of the valley around the reservoir is worth traveling for.
16. Pykara Waterfalls
Situated on the Ooty Mysore road, this waterfall is around 20 km away from Ooty. Developed as a picnic spot, this place is ideal to come and relax while admiring the scenic beauty of the waterfall and greenery around. There is a boathouse and a restaurant can be found also near the waterfall, where you can enjoy snacks while the beauty of pristine streams of water mesmerizes you. The surrounding area is also popular for Toda settlements.
17. St Stephens Church
Dating back to the 19th century, St. Stephen Church is a place to visit in Ooty for its architectural beauty and religious importance. Although comparatively simpler, this church has beautiful interiors. The painted glass windows along with the painting of Last Supper are especially captivating. It is said that the timber used in the construction of this church was brought from Srirangapatna as well as from the Tipu Sultan Palace.
18. Ooty Stone House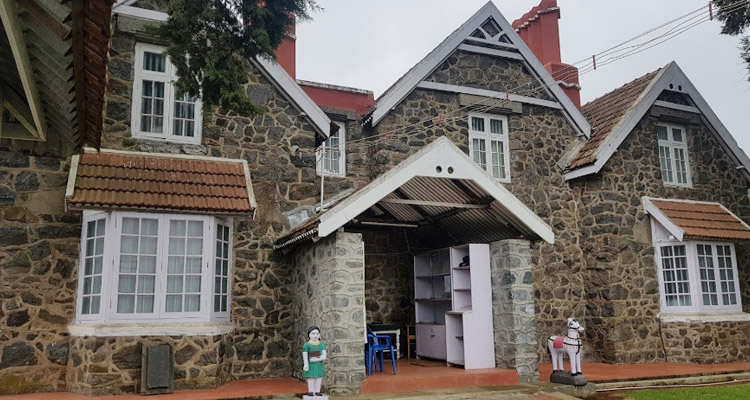 The first bungalow which was built in Ooty is the Stone House. It was constructed by John Sullivan in 1822. Used to be called Kal Bungalow by the locals, it was built on the land which was brought from the Toda people. Its ancient architecture is worth seeing. Many tourists visit this place to have a glimpse of this bungalow.
19. Toda Huts Ooty
One of the most attractive and unique sightseeing places in Ooty is the Toda Huts. These are the residing places for the Toda people, one of the indigenous tribes of Ooty. The huts are made in the shape of a semi-barrel. These huts don't have any windows and very low doors where one has to stoop and enter. While once you are inside the hut there is space to stand as well. This close-knit community of Toda people mostly depends on cattle herding and farming for a living.
20. Wax World Ooty
Located at a distance of 2 km from the center of the town, Wax World is definitely a place to see in Ooty. Many real-like statues of great Indian personalities have been displayed here. Some of the statues at this museum are of Mahatma Gandhi, Bal Gangadhar Tilak, Mother Teresa, Gopal Krishna Gokhale, late Dr.A.P.J. Abdul Kalam, and many more. A replica of local people and their living styles has been displayed here.
21. Wenlock Downs Ooty
Over 80 acres of lush green landscapes also housing Hindustan Photo Films Company presents a vast spread of greenery and a calm environment. A walk here, amid the soothing touch of nature and its calm surroundings with nothing but the sound of birds and leaves rustling as the wind passes by, is something that will make your Ooty tour complete. The sight of sheep grazing and a long stretch of eucalyptus trees is sure to mesmerize you.
22. Nilgiri Mountain Railway
The best way to appreciate the tranquil scenery of Nilgiri is by getting on board the Nilgiri Mountain Railways. As the train makes its way through the curvaceous trail, you will be amazed by everything passing by. The Nilgiri Mountain Railway was introduced in 1899 by the British and it continues to chug up from Mettupalayam to Ooty. The journey covers 26 km, travels through 16 tunnels, 208 curves, and 250 bridges. In 2005, UNESCO added Nilgiri Mountain Railway to the list of World Heritage Sites as part of the Mountain Railways of India.
23. Emerald Lake
Surrounded by the tea plantation and Rolling Meadows, Emerald Lake is one of the must-visit places in Ooty. Located in the Silent valley of Nilgiri district, the sight of this lake is picture-perfect. This place is a famous picnic spot and with its amazing landscape, it is an ideal location for photographers.
OOTY IS A PARADISE TO VISIT.
Being a mountain lover, the whole idea of traveling to one of my favorite hill stations in the country, known as "The queen of Hill Stations" in South India, was unquestionably the most enthralling one. I was excited to be amidst the alluring landscapes. As you start moving through the twisted road, passing by the verdant valleys and towering Eucalyptus trees, the bountiful outdoors become your constant companion, taking you to one of the most picturesque locations, popularly known as Ooty. Once regarded as the summer headquarters of the Madras government, Ooty was established by the British in the early 19th century. During British rule, it was bustling with colonial bungalows, churches, and exotic vegetable & fruit farms. It is believed that the seeds of a hill station were planted during this period.
HAPPY AND SAFE TRAVEL WITH SHAHAR YAAR.

PLAN YOUR TRIP WITH SHAHAR YAAR.